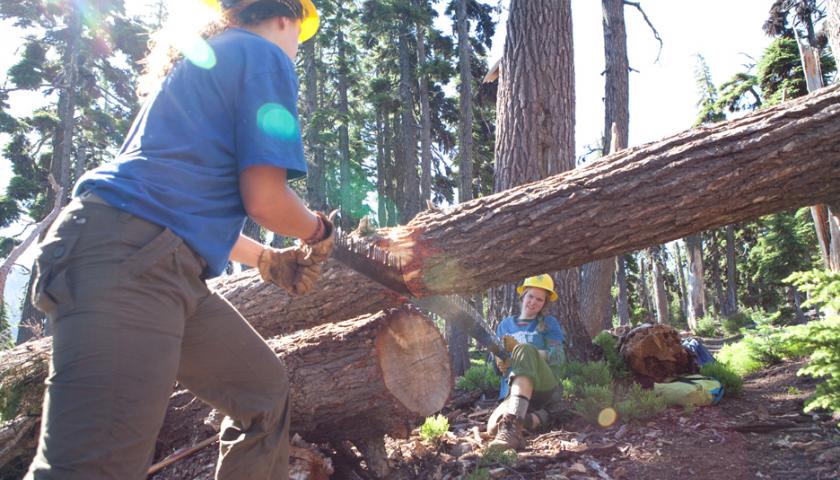 Are you ready to take your conservation and leadership skills to the next level? 
Tuition Crew Members:
Choose where they want to serve
Complete important conservation service projects
Build skills in teamwork, leadership, and problem solving
Tuition Crews:
Include 6 to 8 high school aged members per crew
Serve 3 to 4 weeks in the summer
Are supervised by two experienced adult leaders
Offer scholarships to support the cost of tuition and the cost of travel to the site
Cost $2750 to $3000 per participant (see crew details below for the tuition cost for each crew)
The Ideal Candidate:
Is 15 to 19 years old on the start date of the crew
Is a current high school student, or is graduating this spring
Is committed to the mental and physical effort needed to learn new skills in a demanding environment
Has the pre-requisite skills in camping and conservation work required for a specific position 
2017 Tuition Crews:
Check back soon for crew dates, position codes, and details about location, work projects and pre-requisites. 
Chugach National Forest, Alaska
June 19th through July 17th
Four weeks
Pre-requisites: Enthusiasm; ability and willingness to work hard
Application Code: PO-00699621
Girls: 4 spots available
Boys: 4 spots available

Crew members will meet up with their leaders in Cordova, Alaska. The crew will set up camp at the 13 Mile Campground and travel daily to their worksite on the Ibeck Creek Trail to perform stream bank restoration. The crew will also spend 4 days participating in community work days at Eyak Lake, Hansen Creek, and Shelter Cove and will volunteer at the annual Salmon Jam festival at the end of the crew. 

Denali National Park, Alaska
July 5th through August 2nd
Four weeks
Pre-requisites: Successful experience camping for multiple consecutive days; successful experience with manual labor
Application Code: PO-00722512
Girls: 4 spots available 
Boys: 4 spots available

This crew will have the amazing opportunity to call the Riley Creek Campground home for four weeks. Participants should be prepared for an intensive camp and work experience. The project includes construction of a new trail and rehabilitation of social trails in Denali National Park. The crew will use a variety of hand tools typical of trail construction to remove tundra from trail corridor and replant tundra around newly constructed visitor areas.

SCA NatureBridge Science Exploration Crew 1
Olympic National Park, WA
More details coming soon!

SCA NatureBridge Science Exploration Crew 2
Olympic National Park, WA
More details coming soon!
How to apply:
Enter the Application Code(s) above for your top-choice location(s). (Application codes have not been posted yet. Check back soon!)
Make sure that you meet the pre-requisites for the position(s) you are applying for.
Admissions Process
Selected candidates will receive an email offer with the dates and location of their position
You will have the opportunity to accept or decline the offer
If you accept, you will receive:

Medical Form
Conditions of Acceptance Form
Member Handbook Acknowledgment Form
Tuition payment and financial aid information
Location information for planning your travel to the site

Candidates who are not selected will be informed via email