Excelsior Conservation Corps
Excelsior Conservation Corps
Program Dates:
February - December 

Number of members: 50

Application Review Begins:
July 

SCA's application fee is waived for this program.
Created in 2015 as a Governor's Initiative, the Excelsior Conservation Corps (ECC) is a ten-month residential AmeriCorps program that partners with:
AmeriCorps: AmeriCorps places thousands of young adults into intensive service positions, like Excelsior Corps, where they learn valuable work skills, earn money for education, and develop an appreciation for citizenship.
The Mission of the Office of Parks, Recreation and Historic Preservation is to provide safe and enjoyable recreational and interpretive opportunities for all New York State residents and visitors and to be responsible stewards of our valuable natural, historic and cultural resources.
The Environmental Facilities Corporation (EFC) is a public benefit corporation which provides financial and technical assistance primarily for water quality infrastructure projects.
The NYS Department of Environmental Conservation's mission is to conserve, improve and protect New York's natural resources and environment.
The ECC works on environmental stewardship projects on NYS DEC and NYS OPRHP public lands that result in the protection of natural resources, thus helping to sustain these resources over the long term for the benefit of the New York State community. Based on the needs identified by partners, ECC members will be divided in to the following crews:
Mixed Stewardship (2 total crews)
These crews will work on a diversity of projects which may include invasives removal, trail construction and/or improvement, erosion control, basic carpentry projects, chainsaw projects, culvert assessments, and GPS/GIS resource mapping.
Infrastructure and Sustainability (1 crew) 
This crew will be focused on projects that help improve the infrastructure of buildings and lands while also improving sustainability.  Projects may include weatherization, historic preservation, improving energy efficiency by installing lighting retrofits and solar panels, basic carpentry, and masonry work.
Surveying and Assessment (1 crew)
This crew will be focused on surveying for invasive species or habitat types, assessing culverts using North Atlantic Aquatic Connectivity Collaborative (NAACC) guidelines, GPS/GIS resource mapping, and other related projects.
Environmental Outreach & Education (1 crew)
This crew will be focused on doing education and outreach for each agency. The team may be broken down into smaller crews of 2-4 if needed. From Memorial Day to Labor Day the crew will be doing weekly programing at campgrounds, environmental education centers, or nature centers.  The projects for this team may include interpretive trail building and design, outreach at fairs and festivals, creating educational videos, and conducting interpretive education programing.
ECC members will also plan and facilitate volunteer service projects that will introduce over 1,000 volunteers to natural resource management, trail repair and maintenance, habitat restoration, and general conservation stewardship efforts.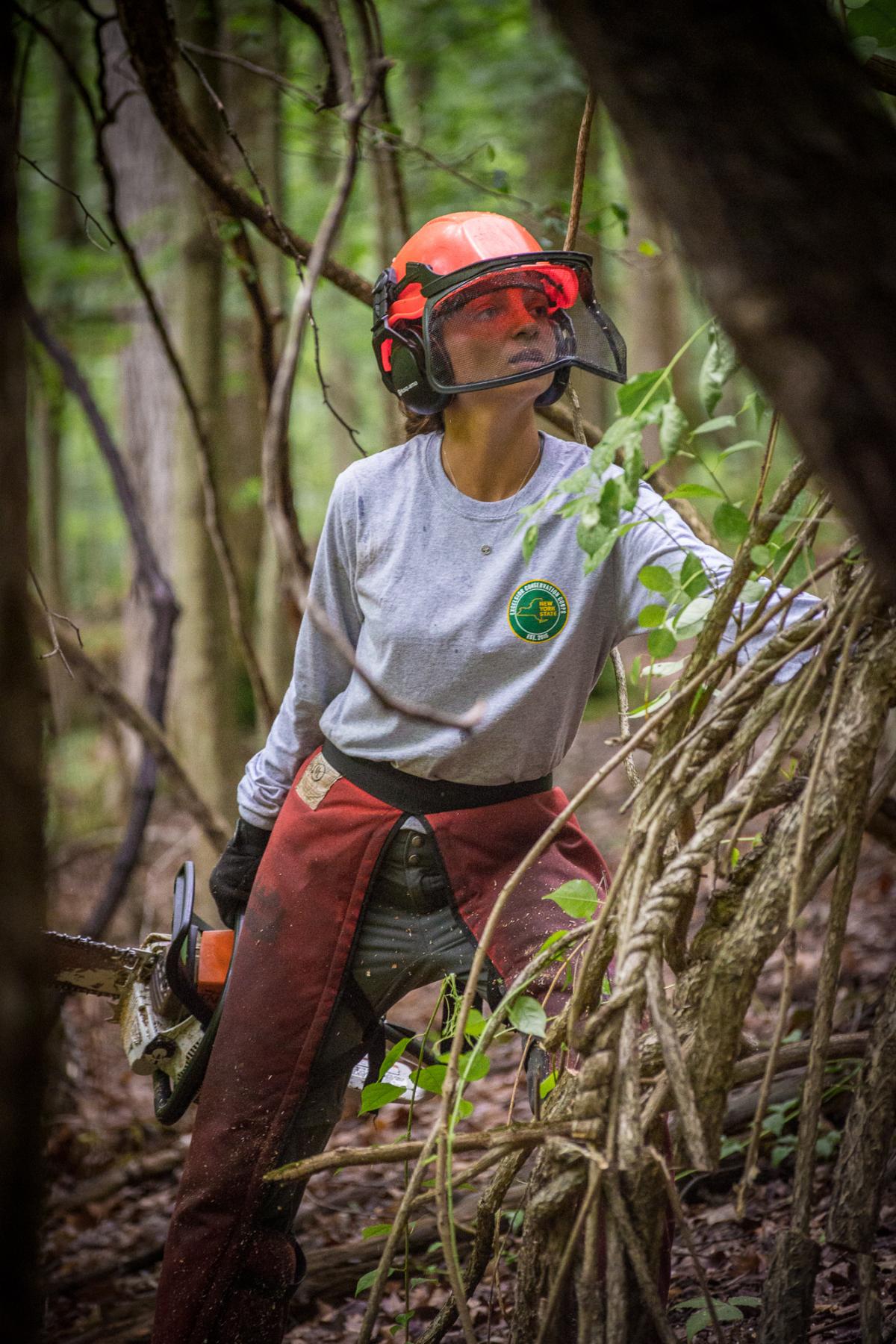 Members will receive extensive trainings and certifications that will help prepare them to safely and successfully complete assigned projects.  Members of Excelsior Corps are eligible to receive the following trainings or certifications:
Wilderness Advanced First Aid (WAFA)
CPR Certification
Leave No Trace (LNT) Trainer
Comprehensive Trail Construction & Maintenance Skills
OSHA 10 Construction Certification
Outdoor Living Skills
Education and Outreach members also receive the following trainings and certifications:
Curriculum Trainings
Project Wet
Project Wild
Project Learning Tree
Certified Interpretive Guide Training
All other members may receive the following trainings and certifications:
Native Timber & Stonework
Carpentry*
Game of Logging Chainsaw Certification
Basic Rigging
Crew Management and Leadership
S-190 - Introduction to Wildland Fire Behavior*
NAACC GPS/GIS mapping*
(* members will specialize in one of these skills)
Applicants must be between the ages of 18 and 25. The age for Veterans is extended to age 28. All applicants must be able to pass a criminal background check.
Members receive monthly living stipends and are provided with food and housing for the duration of the program.
Interested in serving with the Excelsior Conservation Corps?
Contact

[email protected]

with any questions regarding the program or application process. Once you have started your application contact

[email protected]

to have your application fee waived.
Follow the Excelsior Conservation Corps on Facebook.
Follow the Excelsior Conservation Corps on Twitter.