Excelsior Conservation Corps
Program Dates:
May 22, 2022 to December 16, 2022

Number of members: 18

SCA's application fee is waived for this program.
Created in 2015, the Excelsior Conservation Corps (ECC) is a seven-month residential AmeriCorps program that partners with the NYS Commission on National and Community Services, NYS Department of Environmental Conservation (DEC) and NYS Office of Parks, Recreation and Historic Preservation (OPRHP).
Scope of Work
ECC works on environmental stewardship projects on DEC and OPRHP public lands that result in the protection of natural resources. These important initiatives help sustain New York's natural resources for the long- term benefit of residents and visitors. Based on the needs identified by partners, SCA Excelsior members serve NY State's public lands by carrying out responsibilities such as invasive species removal, timber stand improvement, trail construction and/or maintenance (including stonework, bog bridging, box step construction, and retaining wall construction), basic carpentry, and other chainsaw intensive projects.
ECC Corps places a special emphasis on furthering member education and career development. The program provides an array of training to help members develop leadership and marketable skills that are designed for a future in conservation and related fields.
Crew Structure
There will be three crews in 2022: one assigned to DEC, one to OPRHP, and one with time split between the two agencies. Crews will consist of up to six AmeriCorps members plus one Project Leader, who will coordinate and supervised members during the projects. Each crew will be housed together in housing provided by the program. One crew will be in the Finger Lakes region and two will be in the Hudson Valley.
Service Site Description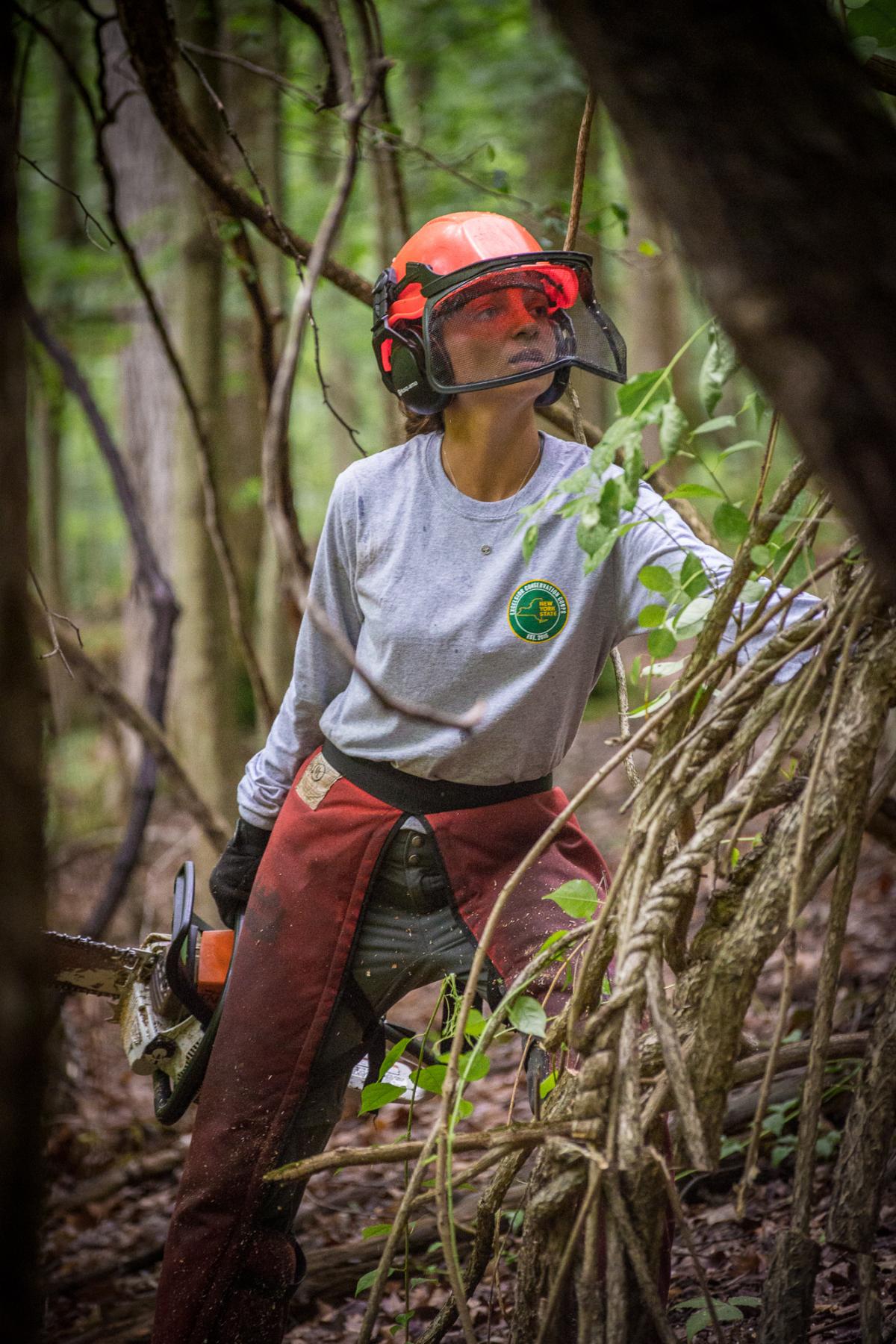 All ECC projects will take place on DEC or OPRHP land.
For half of the field season, crews will work from Monday-Friday and commute to and from the local project worksite every day. Local projects will take place in the Finger Lakes or the Hudson Valley and will be less than 80 minutes from the housing location. For other part of the season, each crew will be on "hitch" projects: these are ten- day (two travel and eight working days) projects sleeping away from their housing locations. Each crew will complete a total of six hitch projects over the course of the season. These will take place on public land throughout the state, food is provided for crew members during the hitch projects.
Compensation
$800 Bi-weekly living allowance
Housing is provided
Food is provided while members are in the field
Trainings and Certifications:
Wilderness First Aid (WFA)
CPR Certification
Leave No Trace (LNT)
Comprehensive Trail Construction & Maintenance Skills
Game of Logging
Outdoor Living Skills
Native Timber & Stonework
Carpentry
Basic Rigging
Crew Management and Leadership
GPS/GIS mapping
Applicants must be between the ages of 18 and 26. The age for Veterans is extended to age 28. All applicants must be able to pass a criminal background check.
AAP/EEO Statement
SCA strives to cultivate a work environment that encourages fairness, teamwork, and respect among all staff members. It is firmly committed to maintain a work atmosphere in which people of diverse backgrounds and lifestyles may grow personally and professionally
Conditions of Employment
Required to demonstrate full vaccination status for Coronavirus Disease 2019 (COVID-19) with a Food and Drug Administration (FDA) authorized or FDA-approved COVID-19 vaccine;
OR
Receive from SCA a reasonable accommodation granting an exemption from vaccine requirements based on a medical disability or because of a sincerely held religious belief. Additional information and instructions regarding how to request a reasonable accommodation will be provided at the time of selection.
INTERESTED IN SERVING WITH THE EXCELSIOR CONSERVATION CORPS?