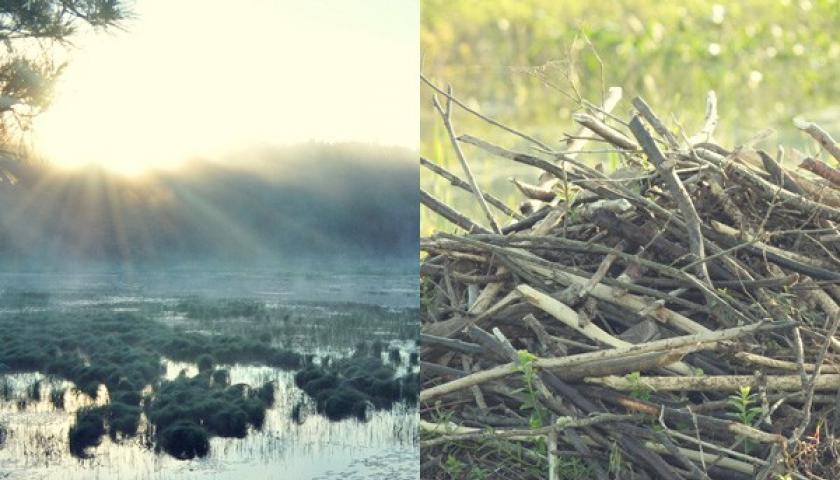 Before I begin explaining my most recent adventures, let me tell you who I am and what I'm doing this summer. I'm a rising junior in college and this summer is the first time I've ever done any sort of field work. The last biology class I took was three years ago in high school. My most fundamental plan for this summer is to soak up as much knowledge and experience as possible. I'm currently stationed at Moosehorn National Wildlife Refuge in Maine, near the border of Canada; one of the easternmost areas of the United States!
I'm officially a biological intern, though my basic task is to help out with whatever needs doing! Waterfowl brood surveys, setting up tree stands, checking traps for American Woodcock, mist netting in the evenings, logging data, figuring out field instruments, unclogging water structures, finding GPS points in the wilderness- the list goes on!
Follow me as I discover what I can this summer both about myself and about protecting the environment through conservation.
And now, for an update on last week's activities:
It's starting to get much warmer up here (I still find it hilarious that people think it's super-hot and humid). I keep realizing just how attached I am to the ocean, which I never really realized until I left Charleston. We drove down a coastal road the other day on the way to get ice cream and just smelling the ocean made me happy. This is also the first time I've ever identified myself as a southerner. I suppose that's what happens when you go this far north!
All that being said, it's been so great discovering the Mainer -or Maineiac, whichever you prefer - culture. It's quite easy to forget just how big the United States is and how many subcultures lie beneath the overarching "American" culture.
This past week was really different from our first weeks since we SCA interns were left to our own devices instead of shadowing the biotechnicians. We went to the wilderness areas, which are areas within the refuge that are not managed and are closed to motorized vehicles, to pull out orange stakes marking a bird survey trail, as the stakes are signs of man's presence. However, this task as easy as it sounds is made much harder when you're wandering through the woods with only a GPS and a compass, trying to find those stakes. Man, that first day was intense!
We were trekking through the woods, bogs, etc. trying to find these things and it took us all morning just to get seven! We now have eight left (out of 30) so we got a good bit done but it certainly is a lot of work! It's pretty awesome though because you really have to up your navigation skills as you can't always rely on the GPS due to spotty satellite coverage in the woods.
Then, after a morning spent wandering around in the wilderness, we went out to impoundments to clear beaver debris from water control structures designed to keep water flowing from one area to another.However, beavers are pretty smart and they want the water up to a certain level, so they do their best to block up these structures.
Apparently this battle between beaver and man has been going on here at the Refuge for quite some time, and recently the beaver population has even increased. People will clear away the debris and the very next day the control structure will be blocked again. Nature forever prevails! That was a lot of fun though, as I donned my "camo" waders and waged war on beaver debris. There's FEET of mud and sticks and it's impossible to clear it all away.Once you get the water flowing again, it's pretty hard to rake anything else out due to water pressure. It's a good way to end the day! We named ourselves Team Flowage with the motto: Beavers be Dammed!