Have you ever thought about taking the great American road trip? Just you and your thoughts, cruising through the country's iconic landscapes and connecting with strangers along the way.
What if we told you there's an even better way to tour the country? One that's environmentally friendly – zero emissions! – and allows you to become part of the landscapes you're looking to enjoy? Trade the car for a bike, the motel for a campsite, and welcome to the world of bike camping. The essence of a bike tour is its low speed, which allows a rider to see and experience the world in new ways. Unique sights, sounds, and smells, coupled with the unpredictability of not knowing who or what you'll encounter each day.
As with any activity, of course, there are specific challenges you'll face while bike camping. The better prepared you are, the better you can immerse yourself in the experience. Bike camping may seem daunting at first, but if you're safe, comfortable, and use our general camping guide to get started, you'll be good to go.
If you start planning while it's still cold out you'll have something to look forward to. and can hit the road once the nice weather begins. Or, if you have a fat-bike, just remember our cold-weather tips, and you won't even need to wait!
Trip Planning
Equipment Basics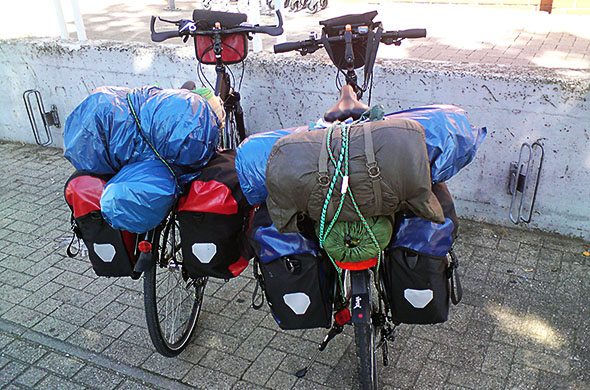 SCA's Top Tips
Related Resources
---
About the Author: Andrew Carpenter is an American University graduate who studied international relations, focusing on human rights and environmental justice. His starry-eyed tendencies have led him to bike across Europe and the U.S., last year writing about transportation issues that affect communities across the country from a cyclist's perspective. Andrew is a freelance writer who looks to promote innovative, sustainable ideas that inspire discovery and bring communities together.
---