Have you ever thought about taking the great American road trip? Just you and your thoughts, cruising through the country's iconic landscapes and connecting with strangers along the way.
What if we told you there's an even better way to tour the country? One that's environmentally friendly - zero emissions! - and allows you to become part of the landscapes you're looking to enjoy? Trade the car for a bike, the motel for a campsite, and welcome to the world of bike camping. The essence of a bike tour is its low speed, which allows a rider to see and experience the world in new ways. Unique sights, sounds, and smells, coupled with the unpredictability of not knowing who or what you'll encounter each day. 
As with any activity, of course, there are specific challenges you'll face while bike camping. The better prepared you are, the better you can immerse yourself in the experience. Bike camping may seem daunting at first, but if you're safe, comfortable, and use our general camping guide to get started, you'll be good to go.
If you start planning while it's still cold out you'll have something to look forward to. and can hit the road once the nice weather begins. Or, if you have a fat-bike, just remember our cold-weather tips, and you won't even need to wait!
Trip Planning
Don't go it alone. Share detailed travel plans with a trusted friend or family member back home. They need to know where to look for you if something goes wrong, and when to start worrying if you haven't returned.
Know your route. Touring is exhilarating on the right roads, but it's downright terrifying on the wrong ones. Major streets are not designed for cyclist comfort, so you're better off finding an alternative route, which is usually quieter and prettier anyway. Ideally there's even an off-street trail - a true gift.
Know simple bike maintenance. You don't have to be an experienced mechanic, but you'll likely have to change a tire or fix your chain at some point, and that will get you to the shop.
Equipment Basics
Spare tubes, pump, tire levers. Flats happen.
Multitool. For basic maintenance and quick fixes along the way.
High-Visibility Clothes. Drivers should be paying attention, but more visibility is helpful.
Lights. You want to see potholes before you hit them.
Panniers. Ideally waterproof, but anything that safely attaches your rack or frame and carries your supplies.
Camping gear. Of course.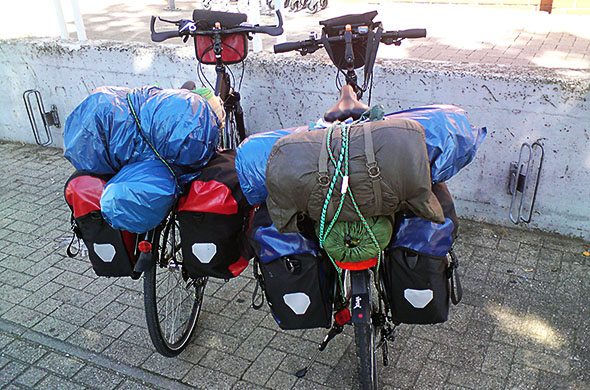 SCA's Top Tips
Make sure your bike is comfortable. There are long, exhaustive discussions online about what bike and configuration is right for you. What really matters is that you can pedal comfortably for multiple hours a day, and your gear is balanced. The rest you figure out as you go.
Be a PAL. Predictable, Alert, and Lawful, that is.
Don't rush. There's a time and a place for racing, but the purpose of bike touring is to go slow. Take breaks and look around.
Know your limits. Related to above, biking is tiring. Over-exertion takes its toll down the road, mentally and physically.
---
About the Author: Andrew Carpenter is an American University graduate who studied international relations, focusing on human rights and environmental justice. His starry-eyed tendencies have led him to bike across Europe and the U.S., last year writing about transportation issues that affect communities across the country from a cyclist's perspective. Andrew is a freelance writer who looks to promote innovative, sustainable ideas that inspire discovery and bring communities together.
---