SCA Intern Kaiti Chritz Photographs Grizzlies on Coast of Katmai
Climbing out of my tent at 5:30 a.m. revealed an absolutely stunning morning. The water-striped mud flats of the low tide in Hallo Bay reflected the morning sun and silhouetted clamming bears off in the distance. As we hiked along the beach to the observation spot, my camera gear, tripod, and large lens made it's presence known on my back. I wasn't going to regret not bringing something with me on this once in a lifetime opportunity. My job this week as the SCA media intern for the Ocean Alaska Science and Learning Center was to document scientists conducting bear observations at Hallo Bay as part of the Changing Tides project.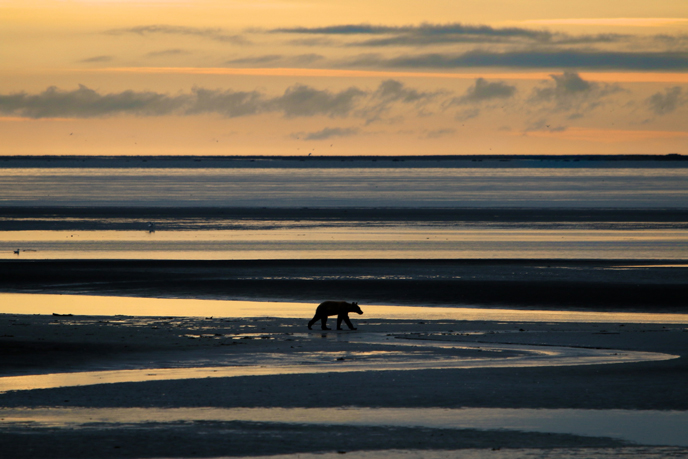 A brown bear cub walks across the low tide of Hallo Bay on July 15, 2015. NPS/K.Chritz.
Observations were conducted in four hour blocks that included hourly scans of the area. As we settled for the first scan of the day, I prepared my cameras. It was a quiet morning, peaceful. There were bears all around us, some clamming in the mud flats and other foraging in the adjacent meadow. At any given time I had around ten bears in sight, although we were always quite a distance away. I estimated that every bear was smaller than the size of my fingernail when held out in front of me.
When multiple planes landed on the beach of Hallo Bay later that morning, I was surprised. We hadn't seen another person since we had been dropped off at camp the previous afternoon. Groups of people and guides were out in the meadow watching a particular bear or group of bears, and as a photographer, there was no way for me not to feel a slight tang of jealousy. Compared to where we were doing observations, they seemed to be so incredibly close. Oh, the photos and video footage you could get of these incredible creatures! But, that slight tang quickly faded when we got into the groove of observations.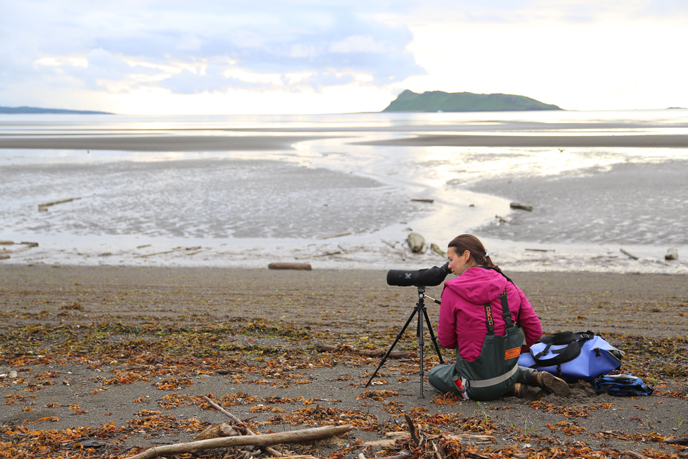 Joy Erlenbach observes clamming bears in Hallo Bay of Katmai National Park on July 14, 2015.NPS/K.Chritz.
As a scientist myself (with a particular interest in animal behavior), the opportunity to observe brown bears and ask Joy, the PhD student collecting the data, questions about what I was seeing was unbelievable. My first brown bear sighting was merely a week ago, and I was eager to learn more about them. As a photographer I got to visually explore this incredibly rich environment. I worked on pull-focus video shots, bringing bears and wildflowers in and out of focus. I waited for special moments of bears in the far off meadow, my favorite being cubs exploring a pile of branches, carefully testing their footing while climbing all over it. This was pure bliss. My two favorite things, photojournalism and biology, all in one incredible and intense place filled with brown bears, of all things. How did I get so lucky?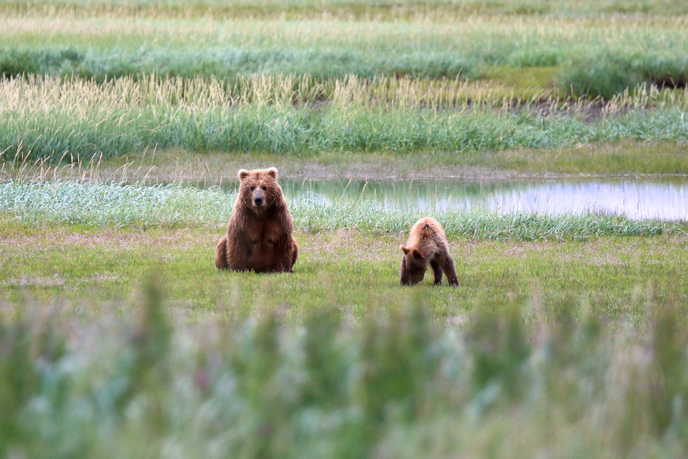 A mother and cub forage in the meadow of Hallo Bay on July 14, 2015. NPS/K. Chritz.
The next day, we were out early for observations. An adult female and two cubs were clamming relatively close to the beach. We took a break from hiking to call and check in with park and were surprised to hear that a plane would be on its way soon to pick us. One thing I've learned out here is that in Katmai, Mother Nature rules all. The weather makes the final call, not us. We hiked back to camp, and packed my gear up.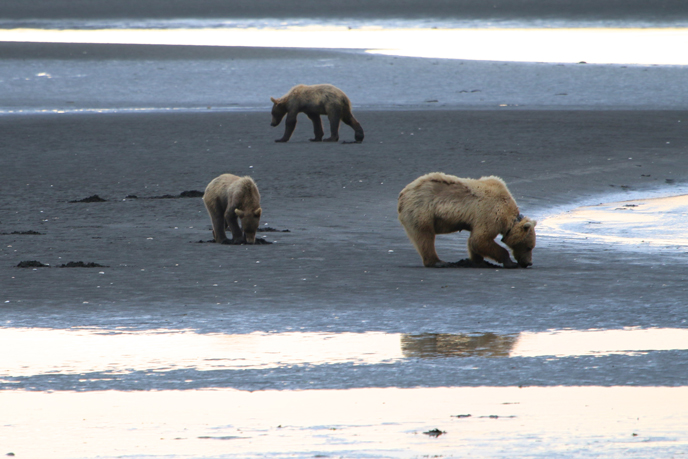 A female brown bear and cubs clam in the mud flats of Hallo Bay on July 15, 2015. NPS/K.Chritz.
This was the first time in two weeks that I had felt sadness—sad to take my last flight on the park plane over Katmai, sad to not know when the next time I'd see a brown bear would be, and sad to end this dream of an adventure. But, somehow I knew that I would come back to Katmai one day, whether it be for an assignment or traveling personally. I have fallen in love with this land and the life it supports and I am honored and humbled that I get the opportunity to be a part of telling the story of the research being done here. Until next time, Katmai.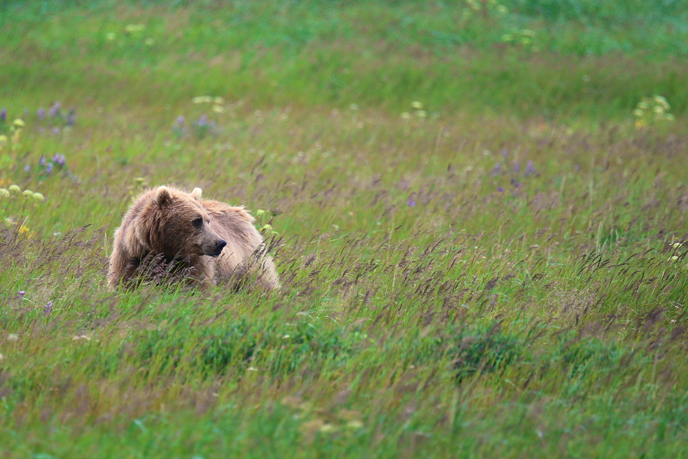 A bear stands in a meadow of Hallo Bay on July 13, 2015. NPS/K. Chritz
Kaiti Chritz is an SCA media intern for the Ocean Alaska Science and Learning Center. She is currently studying photojournalism and biology at Central Michigan University, and is focused on documenting the Changing Tides project this summer in Alaska's national parks. This piece originally appeared on Katmai National Park's blog.