Bond Over a Mutual Love for the Great Outdoors
THIS IS PAGE 2. CLICK HERE FOR PAGE 1.
Next time you're planning to spend some quality moments with a loved one, whether it's a longtime sweetheart, an old friend, or somebody you're just getting to know, take it outside and make it a hike.
Because really, what bond could be more true than one formed over a mutual love for nature's splendor?
To encourage you along this route, we've put together a list of 10 date-worthy hikes in some of our favorite cities.
What makes a hike date-worthy? Here are our criteria:
Within a city or easily accessible from a city
Short. Can be done in an hour or two.
Has something cool about it like a great view or an unexpected rocky outcropping, or an adorable creek bridge, or a feeling of magical seclusion even though you're literally a 5 minute walk from a major urban thoroughfare… that kind of thing.
Know a perfect hike that didn't make our list? Click here to share it with a whole bunch of your fellow trail enthusiasts on SCA's Facebook page. You'll be doing the planet a favor by helping people who care about nature form connections that could lead to lifelong love and companionship.
Washington, DC – The Western Ridge Trail in Rock Creek Park
Even with many jump on/off points that are easily accessible from major roads and paved paths, there are long stretches of this wooded trail where you'll find it hard to believe you're in the heart of our nation's hustling, bustling capital city. Take the route marked "strenuous" for mild rock scrabbling along the craggy cliffs abutting the park's eponymous creek. Click here for directions
Rock Creek Park in full fall mode from the Western Ridge Trail. cc Katja Schulz
Seattle – Goose Rock Perimeter Trail at Deception Pass State Park
90 minutes north of Seattle via I-5 and SR-20, this gorgeous trail winds around Cornet Bay through stunning old-growth forests, climbing up to a spectacular view of the photogenic suspension bridge over Deception Pass. Walking out onto the bridge itself, you will egain dizzying views 180 feet down to the water surging through the narrow canyon out to the San Juan Islands, and inland to the glowing glacial volcanic dome of Mt Baker. Find more info here.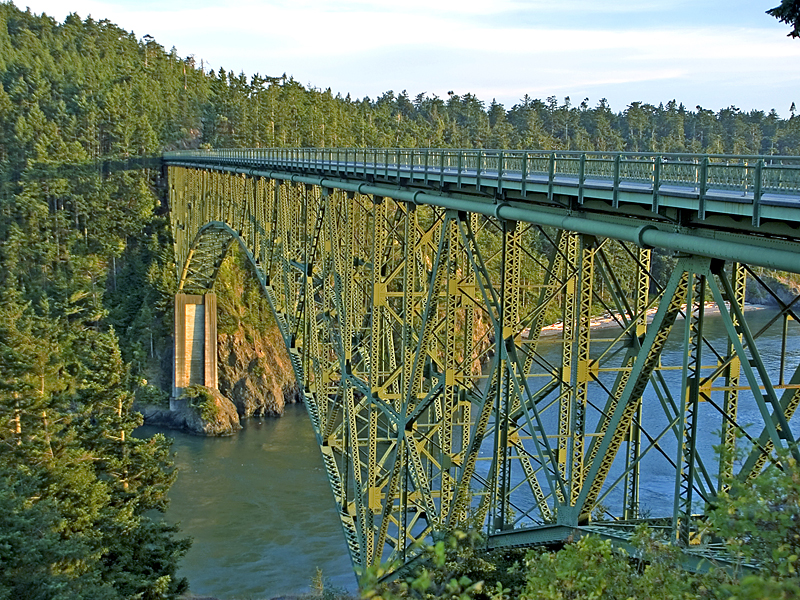 Deception Pass Bridge
Oakland- Wild Cat Peak Loop at Tilden Regional Park
After a secluded walk up a mellow, tree-lined incline, this 3.4 mile loop treats you to a sudden, breath-taking view of San Francisco's skyline, then eases you back down through a wooded canyon. At various points you'll encounter a pair of eucalyptus groves and a little farm known as Little Farm. Pretty impressive for such a short hike so close to the city! Find more info here.
The view of San Francisco from Wild Cat Peak.
New York – The High Line
Rise above the traffic for a pigeon's-eye-view of New York City from the High Line—the innovative park built on a historic elevated rail line through Manhattan's West Side. Along its easy 1.5 miles you'll see historic NYC neighborhoods, sweeping views of the Hudson River, and a cameo glimpse of the Statue of Liberty. If you start at the north end at 34th St you can end with a romantic lunch at Chelsea Market or a stop at the newly-reopened Whitney Museum of American Art. Get directions here.
Sunset from the High Line. Photo: Mike Tschappat via Friends of the High Line.
Salt Lake City – The Living Room in the Wasatch Mountains
Offering an incredible view of the entire Salt Lake valley from a couple of primitively-crafted stone benches at its peak, The Living Room is a stunning place to catch a sunset with your bae. For extra special timing, hike it on the 4th of July or New Year's Eve when you will see not only the city lights sprawling across the valley, but also each individual town and family's selection of fireworks. You, your partner, a big thermos of hot chocolate, and the valley laid out before you? Yes please. More info here.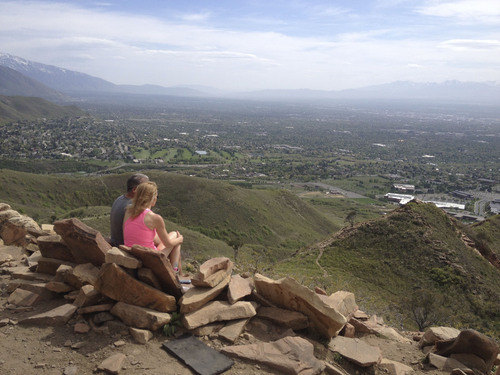 Hiking date in progress on The Living Room Trail.
This is page 2. CLICK HERE FOR PAGE 1, where you'll find date hikes in Portland, Pittsburgh, Chicago, Boston, and Houston.